Gen Y and the world of work
Gen Y - and the world of work

Gen Y joined the labor market some time ago. This generation Y (also called Millennials) is or will be responsible for the development, management and control of economies worldwide. It is therefore important that we understand these talents and gain insight into their ambitions.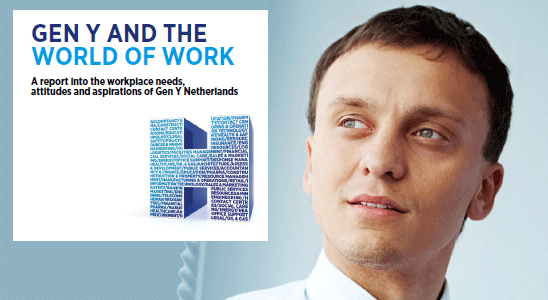 Hays did research into the needs and aspirations of Gen Y. The results will provide you a unique insight into this generation.
We show what you can do to attract, motivate and retain this talent.
The research into generation Y shows how young people look at "the world of work", what career they pursue, what rewards they expect and what makes them happy with their work. What kind of working environment inspires Generation Y and how are they preferred to be managed.
In addition, the report highlights how Gen Y thinks about technology and social media.
About the research into Gen Y
The results of the study in the Netherlands are based on 1000 completed questionnaires.
34% of the participants study full-time, 10% are unemployed and 24% work part-time. Only 25% work full-time. The Netherlands therefore has the lowest labor market participation of young professionals born after 1980 of the countries surveyed.
How does Gen Y think about: