Intern ondernemerschap aanmoedigen
Why you should be encouraging intrapreneurship today

To compete with market disruptions, technology innovations, and the impact of digital, many businesses are trying to improve internal innovation. Here's why you should nurture an intrapreneurial spirit in your staff.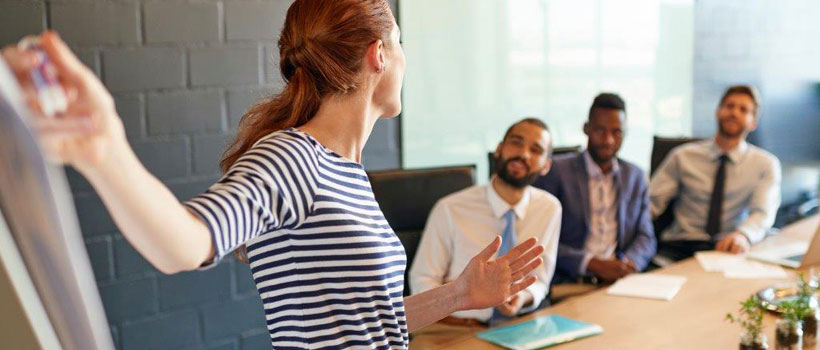 Leestijd: 7½ minuut | Verschenen in Hays Journal 12
It offers good ideas a better chance of succeeding
"From an economic welfare perspective, intrapreneurship is important because the failure rate of start-up entrepreneurship is notoriously high," says Kenny Ching, Assistant Professor of Strategy at UCL School of Management.
"Yet entrepreneurship is undeniably a key driver of economic growth. Intrapreneurship can potentially fill that gap in alleviating some of the risks of start-up entrepreneurship."
"IT'S ABOUT EQUIPPING PEOPLE WITH THE SKILLS THEY NEED SO THEY CAN TAKE THE REINS" - Natalie Riddick, Explore Learning
At a company level, the concept can enable businesses to identify new areas of growth, as well as create an environment where innovation can thrive.
It can improve retention and attraction
Individuals given the freedom to explore their own ideas without having to leave a business are more likely to remain as employees, and to become more engaged with their employers as a result. But it can also help attract new staff.
"When a company is able to demonstrate that innovation and intrapreneurship is part of its DNA, it increases the chances of attracting the talent it needs, and of keeping it on board," says Gérard de Maupeou, Affiliate Professor at HEC Paris Executive Education.
Your staff will feel empowered
If an intrapreneurial spirit feels authentic and can be seen working, staff will feel more influential at work. This is something Deloitte Touche Tohmatsu in Australia has worked hard to create as part of its 2020 Strategy, which has seen the establishment of innovation committees to give individuals an outlet to explore their ideas.
"These have been set up to really empower everyone, from graduates right the way through to partners, to have an idea, to think outside the box, to challenge and then present the idea," says Donna McLeod, Talent Acquisition Lead.
It improves innovation
Global IT services provider HCL Technologies actively encourages staff to come forward with initiatives, creating a 'value portal' to record, facilitate and share customer-focused innovations.
"The basic concept took shape when we realised that day-to-day work teams were adding value by innovating and sharing ideas with customers," says Prithvi Shergill, Chief HR Officer. "HCL-ites post their ideas on the portal to get them reviewed and enhanced by senior leaders, and showcased to customers."
"IT NEEDS TO BE EMBEDDED IN THE CULTURE OF THE ORGANISTION FROM THE TOP DOWN" - John Holden, Online Business School
HCL encourages employees to bring forward ideas with an annual 'Make a Difference Jamboree', known as MAD JAM, to recognise the best innovation that has emerged from employees.
It's the future
Companies that wish to survive and thrive will have no choice but to consider ways to encourage innovation in the future, says de Maupeou.
"Tomorrow's companies will have to be agile, creative, open to the world and friendly to their environment," he says. "People working for these companies will no longer be employees, but 'innovative intrapreneurs'. This will become the new normal; today's companies should get prepared for this."
block ik heb een vacature
Recruiting now?
We believe the right person can transform your business.