Internationaal recruitment
International recruitment

If you are looking for a global recruiter to find employees from around the world, or if you are seeking new employment opportunities in emerging markets, we can help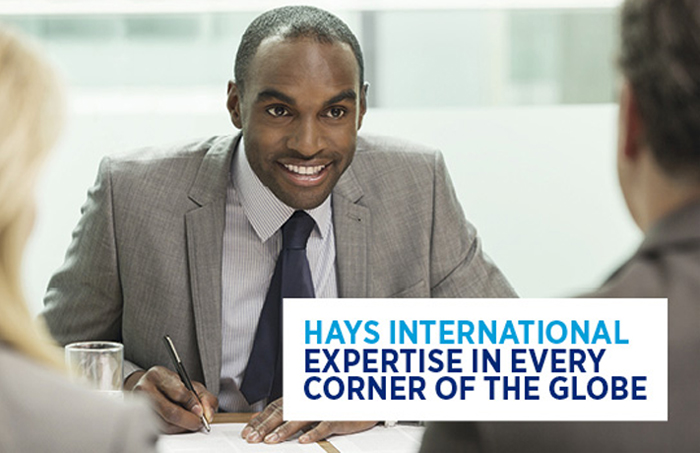 Recruiting experts worldwide
Hays is the leading global expert in qualified, professional and skilled recruitment. Last year our experts placed around 320.00 people into new jobs. We employ 11,000 staff across 33 countries and 20 specialisms.
The primary focus of Hays International is recruitment into emerging markets, supporting our clients' needs where we do not have a Hays office. Our clients and candidates tell us they have difficulty finding consultants with a real understanding of international markets and the ability to support their international recruitment needs. We do this.
Traditional recruitment demands for expatriates are changing. Clients are looking for skilled local hires and expatriates to build strong local teams. Hays International draws on the knowledge and expertise of its team, as well as Hays' global network to provide talent solutions that will transform your business.
Locations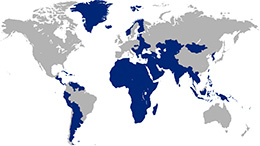 We cover Africa, Asia, Latin America and Europe, including:
Egypt, Liberia, Nigeria, Mozambique, Angola, DRC, Niger, Cote D'Ivoire, Tanzania, Ghana, Kenya
Kazakhstan, Azerbaijan, Myanmar, Thailand, India
Peru, Panama and the Caribbean
Turkey, Norway, Israel
Our services
Hays International, based in London and Paris, is dedicated to helping clients find the talent they need in hardship locations. We recruit for permanent, skilled positions, focusing on the emerging African market. We recruit for a wide level of professional experience, from lower management jobs to senior executives and CEO's.
Key USP's:
We support and advise clients as industry experts in the field of international recruitment
We support and advise clients as industry experts in the field of international recruitment
We provide industry leading knowledge about how best to recruit across international markets
We are not restricted by location and provide a truly global recruitment service
Contact
| | |
| --- | --- |
| Hays International Londen | Hays International Parijs |
| Phone:+44 203 465 0160 | Phone:+33 014299 1660 |
| Email | Email |
Block Hays Afrika carriere forum
Join Hays Africa Career Forum
Develop your career, get access to the latest industry insights and network with our community of African market professionals - all in one place.