QUEER PARENTING: SHOULD COMPANIES GO BEYOND LEGAL REQUIREMENTS?

Companies have come to recognise that supporting employees' parenthood leads to more dedicated and satisfied workers. Balancing work and parenthood requires effective organisation, but it often intersects with company life, such as leave, family events, and flexible scheduling. Companies have a responsibility to ensure equal rights for their employees and support them in meeting these challenges.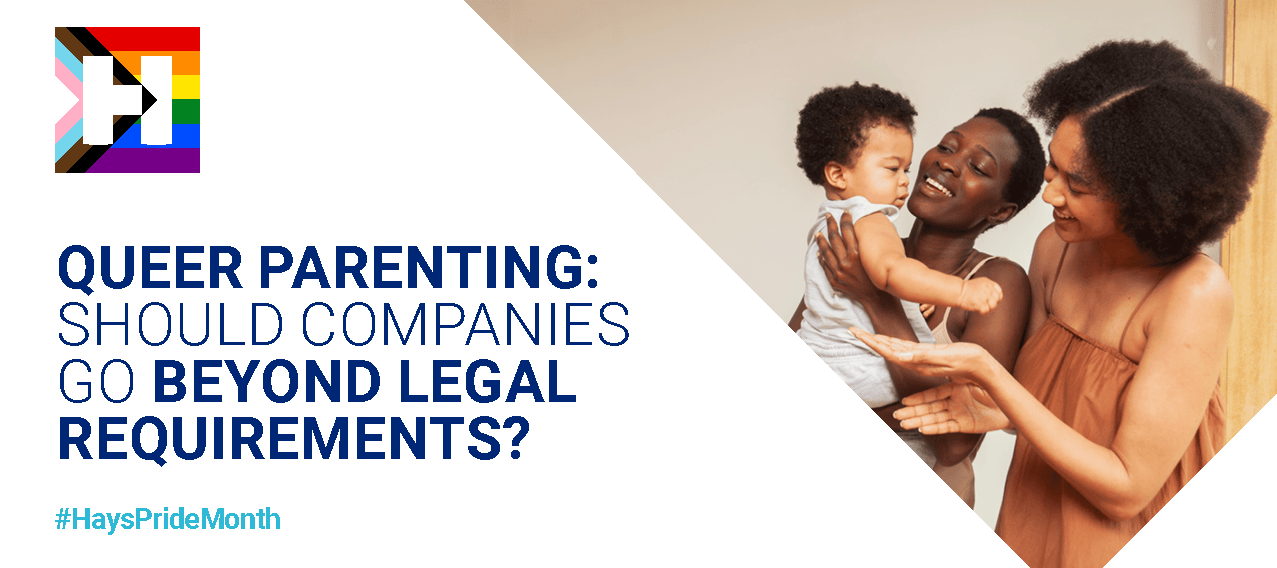 In a heteronormative environment, many queer parents are overlooked and unable to assert their status. While not biologically related to their child, same-sex partners play a crucial role in their upbringing. Parental recognition grants rights and responsibilities, but without visibility, LGBTQI+ workers cannot assert these rights.
This lack of recognition extends to benefits such as family holidays, back-to-school bonuses, and holiday vouchers. A family's legal status determines eligibility and contributions, which are significant considerations during times of inflation and financial prudence.
Although progress has been made in recognising new forms of parenthood, the benefits of same-sex parenting are often neglected by companies. Employment laws are still imprecise when it comes to same-sex parents, leaving gay employees to navigate their situation on their own until legal changes occur.
NEUTRALITY IS NO LONGER ENOUGH
The Observatory of Parenthood in the Workplace reports that nearly 20% of LGBTQI+ individuals feel hostility towards homosexuals at work, and 67% avoid being visible for fear of career repercussions. Additionally, 26% have experienced or witnessed homophobic behavior without consequences for the responsible parties in 92% of cases.
These figures highlight the need for companies to actively support LGBTQI+ workers and position themselves as allies. Encouraging employees to be their authentic selves can foster an inclusive environment. Companies can take several steps towards achieving this:
1. Include queer parenting in company documentation and parenting guides.
2. Implement equal treatment for family leave.
3. Provide support upon return from maternity, adoption, or parental leave.
4. Invite spouses to company-organised family events.
5. Ensure fair sanctions without victimisation or stigmatisation.
6. Report privacy breaches affecting colleagues to appropriate channels.
7. Recognise that there is no one-size-fits-all model for queer parenting experiences.
BUSINESSES TO LEAD THE WAY
Hays, as part of the Corporate Parenthood Committee, is committed to providing practical solutions that ensure equal rights and treatment for all employees, regardless of sexual orientation or gender identity.
Bianca Stringuini, Global Director for Diversity, Equality, and Inclusion at Hays, emphasises the importance of creating an inclusive environment where LGBTQI+ community members can fully engage in their work. Inclusion enables diversity to thrive, attracting individuals when they feel a sense of belonging, fairness, and psychological safety to address and discuss problems.
Companies play a vital role in society, and by surpassing legal requirements, they can influence the government to do more. By proactively addressing these issues, businesses contribute to the development of diverse parenthood. It also demonstrates their genuine commitment to inclusion, extending beyond superficial measures like daycare centers or occasional holidays, and embracing all individuals.
Normaal werken bij Hays_EN
Get in touch for a free consultation
block blogs meest gelezen