block Find & Engage nader bekeken
Voorspel de interesse van kandidaten
De transformatie van recruitment

Voorspel de interesse van kandidaten in een nieuwe baan
Onze investeringen in data, technologie en contentplatformen hebben er toe geleid dat we een uniek instrument hebben ontwikkeld: de Hays Approachability Index.
Deze index geeft de Hays-experts inzicht in de mate waarin kandidaten open staan om benaderd te worden voor een nieuwe baan. Zo wordt de wereldwijde Hays database met daarin miljoenen kandidaatprofielen ten volle benut.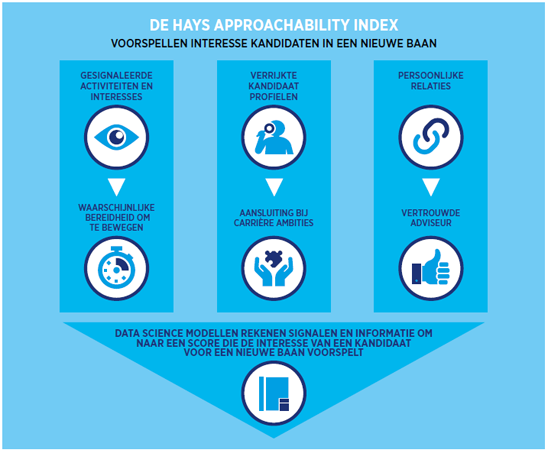 Hays Find & Engage
De wereld van recruitment ondergaat een transformatie. Het vinden van de juiste kandidaten is in toenemende mate een mix van mensenwerk en het slim gebruiken van technologie en data.
Om duurzaam succesvol te blijven in recruitment, ontwikkelde Hays het Find & Engage model. Een recruitment marketingstrategie die het beste van beide aspecten samenbrengt.
Het Find & Engage model geeft werkgevers de mogelijkheid om de juiste talenten te identificeren, contact met ze te maken en behouden, en ze te enthousiasmeren voor een nieuwe baan. Zelfs als de kandidaat nog niet actief zoekt naar een nieuwe uitdaging.
Lees hier meer over het Find & Engage model of download het volledige rapport.
Get in touch for a free consultation
block ik heb een vacature
Recruiting now?
We believe the right person can transform your business.