block SFMC download hj 17
Download your Hays Journal
The Boeing Company: Bouwen aan de toekomst met de juiste HR strategie

Al langer dan een eeuw staat Boeing in de frontlinie van de luchtvaartindustrie. Van het helpen bij het sturen van astronauten naar de maan tot het innoveren van de commerciële luchtvaart: de langetermijngroei van Boeing rust op een grote workforce van diverse professionals.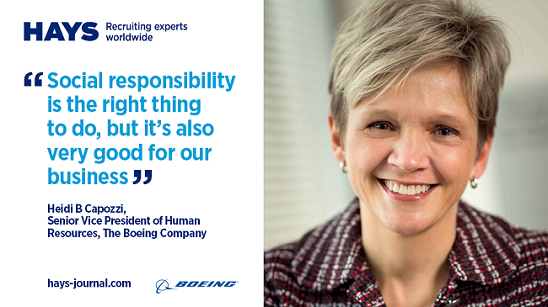 Verschenen in de Hays Journal 17
Heidi B. Capozzi, Senior Vice President of Human Resources bij The Boeing Company neemt je mee in de HR strategie van de organisatie.
Ze legt onder meer uit hoe een cultuur van samenwerken en diversiteit de organisatie sturen. Op welke manier investeert Boeing in de ontwikkeling van werknemers en welke visie heeft Boeing op maatschappelijk verantwoord ondernemen?
Tenslotte deelt Heidi hoe Boeing haar positie als leidende organisatie in de luchtvaarorganisatie weet te behouden, constant weet te innoveren en de belangrijke rol die HR daarbij vervult.
block ik heb een vacature
Recruiting now?
We believe the right person can transform your business.
Get in touch for a free consultation