block Find & Engage nader bekeken
De ware kosten van recruitment
De ware kosten van recruitment

Organisaties laten zich meestal leiden door drie belangrijke criteria als het gaat om recruitment: kwaliteit, snelheid en kosten. De werkelijke kosten van recruitment zijn het moeilijkst in te schatten.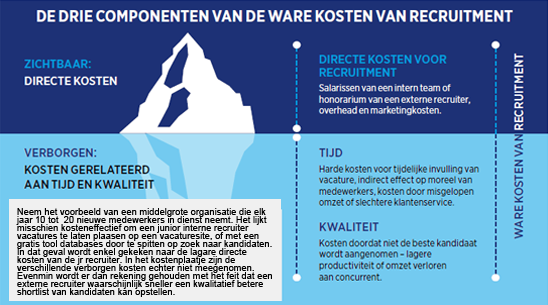 Deze veranderde wereld van recruitment vereist flinke investeringen in data-analyse en data science technologie.
Iedere werkgever, ongeacht de omvang van de organisatie, kan een voorloper worden in deze ontwikkeling door samen te werken met een recruitmentspecialist zoals Hays. Met een vooruitstrevende aanpak en gedegen samenwerking krijgen wij toegang tot de best gekwalificeerde mensen tegen relatief lage kosten.
Hays Find & Engage
De wereld van recruitment ondergaat een transformatie. Het vinden van de juiste kandidaten is in toenemende mate een mix van mensenwerk en het slim gebruiken van technologie en data.
Om duurzaam succesvol te blijven in recruitment, ontwikkelde Hays het Find & Engage model. Een recruitment marketingstrategie die het beste van beide aspecten samenbrengt. Het Find & Engage model geeft werkgevers de mogelijkheid om de juiste talenten te identificeren, contact met ze te maken en behouden, en ze te enthousiasmeren voor een nieuwe baan.
Zelfs als de kandidaat nog niet actief zoekt naar een nieuwe uitdaging.
Lees hier meer over het Find & Engage model of download het volledige rapport.
Get in touch for a free consultation
block ik heb een vacature
Recruiting now?
We believe the right person can transform your business.