block flex alle onderwerpen
Meer flexibiliteit voor uw organisatie?
Wanneer flex recruitment
Flex recruitment

Wanneer kiest u voor flexibele inhuur?
Er zijn een aantal omstandigheden waarbij het inhuren van een flex professional gunstig kan zijn voor uw bedrijf, bijvoorbeeld bij zwangerschapsverlof of een project.
Wij beschrijven een aantal voorbeelden waarbij flexible inhuur wellicht in uw voordeel kan werken. Denk aan:
Zwangerschapsverlof of langdurig ziekteverlof
De intensiteit van de werklast, organisatieveranderingen of projecten
Temp naar perm oplossingen
Outsourcing non-core business processen aan externe bedrijven
Procesoptimalisatie
Organisatorische herstructurering
Implementatie van nieuwe technologieën of projecten
Start-up van een project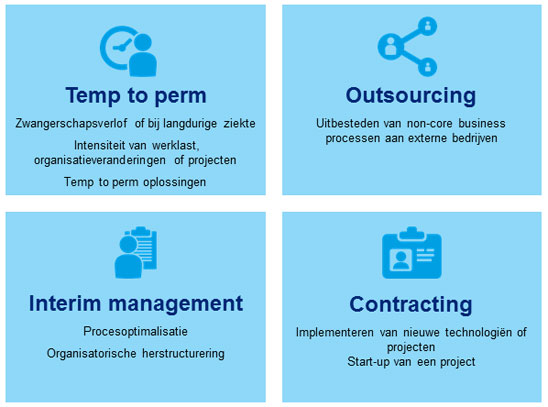 Bent u benieuwd naar de voordelen van flexible inhuur of wilt u meer weten over flex recruitment in het algemeen?
block ik heb een vacature
Recruiting now?
We believe the right person can transform a business
Block SFMC contact fomr
Contact me
Want to know more about our services? We are happy to contact you.