block life sciences direct naar
Life Sciences

Nederland kent momenteel meer dan 3.000 Life Sciences, Pharma en Biotech organisaties. De sector is één van de belangrijkste groeisectoren en is door Nederland aangewezen als top sector.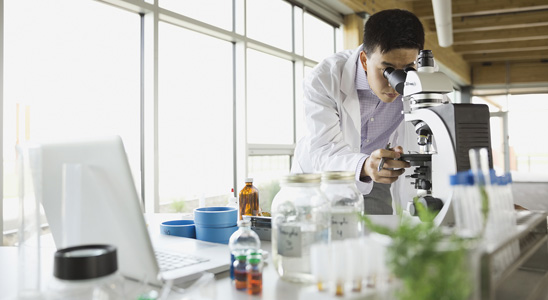 Aanjagers van de groei zijn onder andere de vergrijzing, de toename van ziekten en de vele medische innovaties. De branche is dynamisch en er zijn volop kansen voor een interessante carrière.
Doorbraken in stamcelonderzoek en ander biologisch onderzoek zijn voorbeelden van belangrijke projecten. De overheid investeert samen met de wetenschap en het bedrijfsleven flink in de sector. Een stijging van het aantal banen en de vraag naar Life Sciences specialisten is een logisch gevolg.
Vind uw Life Sciences baan via Hays
Hays Life Sciences focust zich op de volgende gebieden: Regulatory Affairs, Clinical Reseach, R&D, Medical Affairs en Sales & Marketing. Het type functie varieert van Cluster Physicians, Scientists, CRA-CTA's, Projectmanagers, Medical Writers tot Product Specialists en Account-Sales managers in een niche markt. Bekijk hier alle Life Sciences vacatures waar wij momenteel mensen voor zoeken.
Er is vraag naar goed gekwalificeerde kandidaten
Vanuit farmaceutische en biotechnologische bedrijven is er continu vraag naar goed gekwalificeerde kandidaten met de juiste opleiding en aansluitende industrie-ervaring. Voor werkgevers is het niet altijd even makkelijk om de juiste kandidaten aan te trekken voor de openstaande rollen binnen het bedrijf.
Wij adviseren werkgevers en helpen met de ontwikkeling van een goede wervingsstrategie om de posities zo snel mogelijk in te kunnen vullen. Werkgevers realiseren zich de noodzaak van een goede wervingsstrategie goed en hebben HR en recruitment hoog op de strategische agenda staan. Behalve een adviserende rol voor werkgevers, adviseren wij uiteraard ook kandidaten die actief of passief op zoek zijn naar een nieuwe baan binnen Life Sciences.
Carrière-advies voor Life Science professionals:
Zorg ervoor dat u een gedegen cv hebt en dat deze goed vindbaar is. Een van de manieren om uzelf vindbaar te maken is door gebruik te maken van online platformen zoals LinkedIn. Hierbij is het belangrijk dat onderstaande in het LinkedInprofiel duidelijk naar voren komt:
welke opleiding u heeft genoten
bij welke organisaties of bedrijven u werkzaam bent geweest
over welke opgedane vaardigheden en kennis u beschikt. (Life Sciences is een branche waar het vaak om vakspecifieke kennis gaat , wees dus ook specifiek in de manier waarop je je vaardigheden en ervaring weergeeft).
Geef daarnaast aan voor welke posities u graag zou willen worden benaderd.
Speciaal voor u hebben wij hier nog extra loopbaantips voor de Life Sciences professional. Voor meer algemene tips over het zoeken naar een baan of solliciteren klikt u hier.
promobox life sciences alle artikelen
Get in touch for a free consultation
block ik heb een vacature
Recruiting now?
We believe the right person can transform your business.