block meer mindfulness oefeningen
Stuur een compliment

Wie goed doet, goed ontmoet. Vriendelijkheid werkt net als glimlachen aanstekelijk. En de makkelijkste vorm van vriendelijkheid is, een compliment.
Iedereen begrijpt dat een compliment iemands dag zal opvrolijken. Misschien zelfs terwijl hij of zij zich daarvoor somber voelde. Doe het maar eens.
Besteed aandacht aan de mensen om u heen. En wanneer u iets opvalt en het u een positief gevoel geeft, zeg het dan tegen die persoon. Wees niet bang en ben oprecht.
Zeg tegen de andere persoon waarom u hem of haar waardeert.
Doe dit om te beginnen 2x per dag. U zult zien dat het op termijn gemakkelijk en automatisch gaat.
En het mooiste, u wordt op uw beurt ook positiever!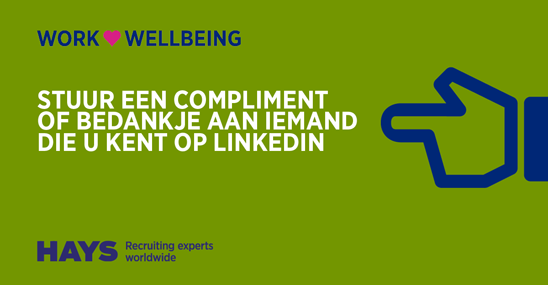 Rapport werkgeluk
Hoe gelukkig zijn Nederlandse professionals eigenlijk in hun werk? Welke factoren zijn volgens hen cruciaal voor geluk op de werkvloer? En in hoeverre zijn deze factoren doorslaggevend in de keuze voor een nieuwe baan?
Lees meer over het werkgeluk van de Nederlandse professional