Hays Journal 15

A new direction
While we can't predict the future, we should always strive to take steps to prepare for it. And while some new developments bring opportunity, others bring challenges. This and more you can read in this Hays Journal.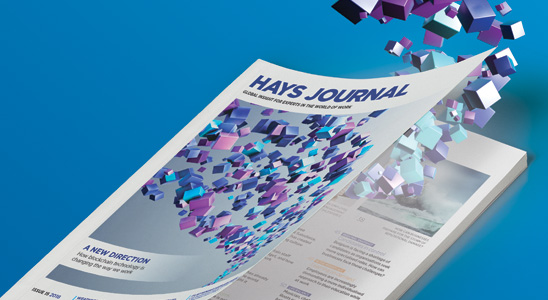 Also in this edition:
Blockchain; how does it shape our future?
Blockchain technology has already had a huge impact on the world of finance. Here you can read how it might influence HR.
Mentoring reversed
Organisations are turning to younger members of the workforce to mentor more senior colleagues. But how can they make this relationship work?
Learning on demand
Employees are increasingly demanding a more individualised approach to their education while at work. But how can businesses respond?
Down to experience
After a push towards stronger employee engagement, can a more holistic view be taken by focusing on employee experience?
block sfmc download hj 15
Download your Hays Journal
Contact me
Want to know more about our services? We are happy to contact you.
Journal Archive
Hays Journal 19
Thought leadership - How can business leaders ensure that they're leading the way on mental health?
Hays Journal 18
Green in every way - Being environmentally friendly isn't always enough. Employers need to show authenticity, too.
Hays Journal 17
Feeling isolated - How loneliness could be putting your employees'mental health on the line
Hays Journal 16
Driving force - How AI could help organisations improve their productivity
Hays Journal 15
A new direction - How blockchain technology is changing the way we work
Hays Journal 14
Intelligent thinking - How AI and chatbots could revolutionise HR
Hays Journal 13
Sink or swim - Disruption is coming. Is your workforce ready?
Hays Journal 12
Encouraging Innovation - How can businesses nurture an entrepreneurial spirit?
Hays Journal 11
Being Human - How automation could mean new opportunities
Hays Journal 10
Aming high in Dubai - A new internship targets China's top graduates