Hays & Klanttevredenheid

Wekelijks vragen wij klanten en kandidaten middels een survey hoe zij onze service hebben ervaren. Wij geloven in een continue verbetering van de kwaliteit van onze dienstverlening.
Door te luisteren naar wat onze klanten en kandidaten ons vertellen, en dit als input te gebruiken, kunnen wij ons doel verwezenlijken.
Wie kan ons beter beoordelen dan de mensen die onze dienstverlening hebben ervaren? Wij waarderen uw input.
Klanttevredenheid: welke factoren spelen mee?
Zowel bij kandidaten als opdrachtgevers is het opbouwen van een langetermijnrelatie een belangrijk doel voor ons. Daarbij is het van belang om continu de kwaliteit van onze dienstverlening te monitoren.
Reacties worden verzameld in een speciale rapportagetool welke alleen toegankelijk is voor het lokale managementteam.
De survey bestaat uit een drietal onderdelen:
de algemene tevredenheid van onze klanten en kandidaten
het wervingsproces: de procedure, onze recruiting consultants, onze kennis en onze organisatie
uw aanbevelingen van onze diensten bij vrienden, familie of collega's
Verbetering van onze service in vier stappen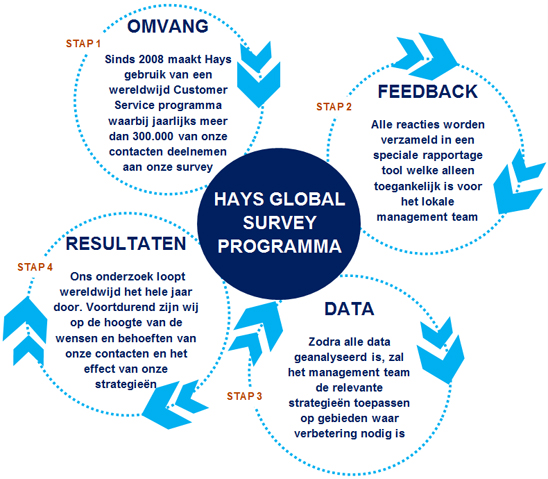 Klanttevredenheidscijfer Hays
Sinds 2008 maakt Hays gebruik van dit wereldwijde Customer Service programma waarbij jaarlijks meer dan 300.000 van onze contacten - verspreid over 33 landen - deelnemen aan de survey. In Nederland hebben bijna 900 personen de survey ingevuld, zowel opdrachtgevers als kandidaten.
In 5 jaar tijd is ons klanttevredenheidscijfer met 10 procent gestegen. Werden we in boekjaar 2012/2013 nog met een 7,45 beoordeeld, in het afgelopen boekjaar hebben onze klanten en kandidaten Hays beoordeeld met een 8,19 gemiddeld.
Get in touch for a free consultation
block ik heb een vacature
Recruiting now?
We believe the right person can transform your business.